RESILIENCE ONLINE SOLUTIONS
When life is challenging, resilience helps us to stay safe, well and effective.
Everyone has been impacted by COVID-19. We are committed to offering an evidence-based yet practical toolkit to remotely support organisations and employees through this time.
This training program is designed to help individuals:
Identify their mental, emotional and physical strengths and risks
Learn about resilience and how to respond to challenging situations
Understand the importance of lifestyle and daily rhythm
Stay calm, rest and rejuvenate
Build strong connections – even remotely or when in self-isolation
Reduce distractions, improve focus and stay present
Make the most of the remote working experience
Our Resilience programs are delivered digitally via our Resilience App and live Webinars. Leaders receive a detailed overview of team Strengths and Risk areas.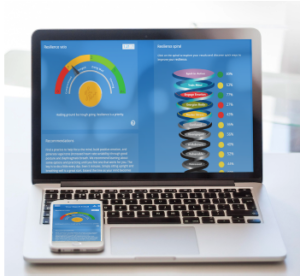 Each participant receives a Resilience Diagnostic report detailing their strengths and risks with recommendations for improvement.
Over 40 training videos
Goal-setting
Tactical focus meditation
2 x Diagnostic assessments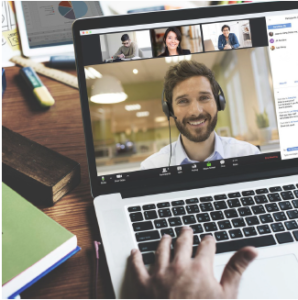 An engaging learning experience with practical tips and insights designed to secure safety and productivity while individuals work remotely.
Available on-demand
Session length: 1 hour + Q & A
Live stream + recorded
Unlimited participants
Our resilience programme is designed to help participants Bounce, Grow, Connect and Flow. This means that they recognise mental health risks, learn how to navigate challenges effectively, develop a growth mindset, understand the importance of lifestyle, build strong connections, and stay focused.
Our specific training for remote working includes the following core components:
Environment:
Set up an appropriate workspace, ergonomics, focus
Rythm:
Structure the day for productivity and performance
Focus:
How to improve focus and get into flow state
Rest:
Micro-breaks, calm and the importance of sleep
Communication:
Empathy, recognition, effective video meetings and etiquette
Mental Wellbeing:
Checking in, asking for support and staying connected
 We are also able to offer manager-only webinar sessions exploring Mental Health for Leaders and to review the team Resilience Diagnostic results. This provides insights and tools to lead more effectively, even when working remotely.
The Resilience Diagnostic provides a powerful 60-factor snapshot of your team's resilience, mental health and wellbeing strengths and risks.
Data can be segmented by region, department, seniority, age, gender and more.
GET IN TOUCH WITH US
For more information, please complete the form.
We will get back to you shortly.