The Resilience Diagnostic applies 20 years of ongoing research and experience to help you and your people transform performance.
Used by over 20,000 people in 300 organisations, the Resilience Diagnostic provides detailed insight into resilience at all levels of human function as well as employee performance.
Reporting on 60 factors of resilience, participants receive individualised recommendations and a comprehensive self-development toolkit.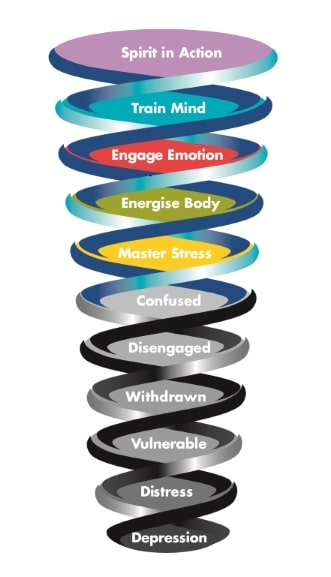 Organisations receive a detailed aggregate report showing group resilience risks and assets.
The Interactive Report is a detailed exploration of 60 Resilience Factors with self-paced learning, practice tips, additional reading, videos and much more, delivered in a private and secure environment.
As an organisation, you will receive a comprehensive report on the resilience of your team. The report will define strengths to build on and opportunities for development. Before and after testing allows you to target your training and measure the impact of our work.
RESILIENCE DIAGNOSTIC LOGIN
For participants of a programme. As a new user of the diagnostic, please register using the code given to you. Remember to save your username and password. This is a secure environment.
As an existing user, please use your username and password to review reports or complete post-course assessments. Remember to explore your online interactive explanations, recommendations and library.
Our secure, online Resilience Diagnostic is psychometrically robust. It is based on 60 questions from the range of factors that determine resilience. It takes less than 15 minutes to complete and the personal Interactive Report is available immediately.
With resilience and wellbeing factors mapped against our Resilience Diagnostic and Development model (the spiral), organizations can quickly identify strengths, risks and opportunities.
Efficient
Takes less than 15 minutes to complete
Comprehensive
Provides a report detailing 60 factors of resilience
Scalable
Easy to roll out across organisations of any size
GET IN TOUCH WITH US
For more information, please complete the form.
We will get back to you shortly.